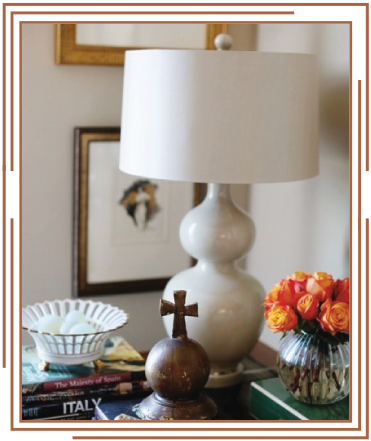 Designer Albert Nolan was born and raised in the small Mississippi delta town of Yazoo City. After Graduating from The University of Southern Mississippi with a BA in Interior Design and a Minor in Musical Theater, Albert moved to Baton Rouge in hopes of owning his own design firm. After 8 years of training with another local design firm, Albert joined forces with fellow designer and good friend Kimberly Kimble Abel. Together, they opened Nolan-Kimble Interiors in 1996. Within the first year they became a huge success! During that same year, Kimberly decided to sell her portion of the business to Albert so she could become a full time mother. Keeping the name in memory of Kimberly's mother, the late Rebecca Kimble, Nolan-Kimble is located at 16265 Highland Road (The Antique Village).
The retail shop is filled with up to date furnishings, accessories, lamps and an extensive array of art.
Having been the recipient of many design awards, Albert mostly enjoys giving his time and talent to wonderful causes, his favorite being the Hospice of Baton Rouge Showcase Home. He is also known in the community for his award-winning acting and gives a great deal of his extra time to The Baton Rouge Little Theater where he performs and serves on the Board of Governors.
© 2017 Nolan-Kimble Interiors & Gifts